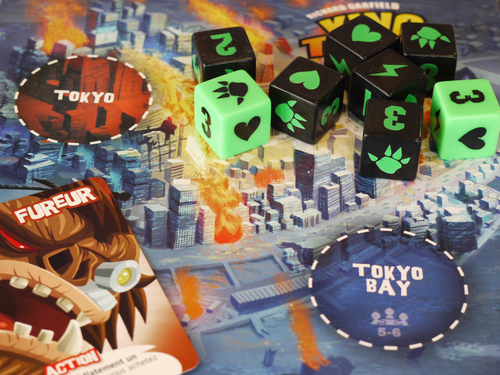 King of Tokyo
King of Tokyo is quickly becoming one of my favorite games. It is easy to learn, the gameplay is fast and fun, and the game offers many strategies for success.
That being said, Sam completely destroyed five other guys tonight.
He played it brilliantly. Through several rounds he ducked in and out of Tokyo, strategically dealing damage to the four players not in Tokyo and then ducking out at the first sign of retaliation.
I could see exactly what he was doing but I found I was always in the same place as Sam, thus unable to do damage to him.
In one round Sam dealt a massive amount of damage, taking out FOUR other players at the same time. From there, it was just cleanup for him to wipe the final player out of the game. Well played, Sam. Well played.